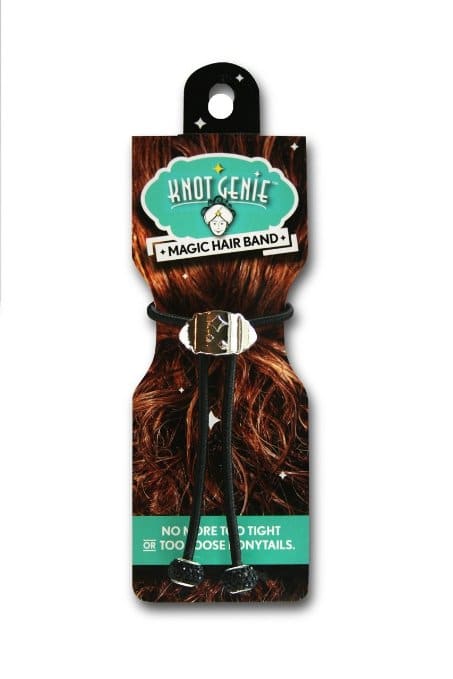 Eliminate ponytails that are too tight or too loose with the new Magic Hair Band from Knot Genie!  Any woman who wears a ponytail would LOVE getting this as a gift for Christmas.
The Magic Hair Band comes from the creators of the Knot Genie detangling brush that changed the landscape of hair care. Featured on the "Today Show" and "Good Morning America," as well as in Parents Magazine, Daily Candy, the Huffington Post and more, the original Knot Genie became a phenomenon when parents discovered this highly effective knot removal brush eliminated daily hair-brushing fights with their kids.
The next step in the Knot Genie's battle for pain-free, hassle-free hairstyles is the all-important ponytail. The Magic Hair Band tackles the too-tight or too-loose ponytail challenge with a unique design that easily slides into place, creating gentle, crease-free ponytails.
Stylish beads on the end of each Magic Hair Band offer a bit of bling. And, you can twist the elastic around the wrist into a fun fashion statement when not in use.
The magic behind the Magic Hair Band is its unique toggle, which easily adjusts over the hair band securing the ponytail in place.  Simply slip the ponytail through the Magic Hair Band, squeeze the front and back of the toggle together and slide it up until the hair is in the desired ponytail.  And, because the elastic is not overstretched by wrapping fine or thin hair over and over or by forcing thick hair into a too small hair band, the Magic Hair Band doesn't lose its staying power.