Sources say two tone nail art will be everywhere this summer! You can get a jump on the trend and learn to do a quick and easy design with this two tone nail art tutorial! The bold design uses only a few simple tools and leaves you open to lots of creativity!
The sky is the limit as far as shades to choose. You can use boldly contrasting colors or shades that are just slightly different from each other for a super subtle look. Whatever you decide, the final result is sure to be striking.
Two Tone Nail Art Tutorial
Step 1: Apply one coat of your base color to each nail and let dry completely.
Step 2: Use the Plie Wand Creativity Kit striping brush and a secondary color to draw a line across each nail.
Step 3: Fill in below each line with the secondary color. Apply your top coat (we love the Oxygen Performance Top Coat and the Freedom Polymer Top Coat ) and you are done!
Julep Special Offer:
Oh, yes. I said I would be sharing a super special offer from Julep! Here it is:
Experiment fearlessly with Julep's monthly beauty box. Get on trend, full-size beauty or skincare products each month, curated just for you! SPECIAL OFFER! 12 pc Nail Polish Gift with New Julep Beauty Subscription with code POLISHGIFT. That's $168 value! 100% satisfaction guaranteed, cancel your account at any time.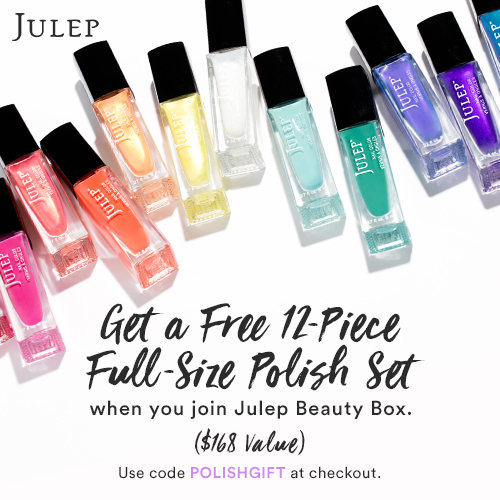 After you join Julep, you'll get a box of gorgeous and good-for-you beauty, nail, or skincare products delivered to your door every month. Julep offers the only full-size and fully-customizable beauty box out there, so you get what you want every month!
NOTE: Offer valid while supplies last. The 12-piece nail polish gift is valid with the purchase of a Beauty Box Monthly Subscription. 100% satisfaction guaranteed. All plans auto-renew on the 27th of the month. Cancel your membership anytime by calling customer service at 1-877-651-3292. Offer may not be combined with any other promotional offer or discount. Limit one gift per household. No exchanges or returns are possible on 12-piece nail polish gift set or individual items. Estimated full retail value is at least $168. Taxes vary by location.