Designer Amy Tan has created the Oh What Fun collection filled with bright colors, fun items you can put to use yourself or make someone's day as a gift and stuff that just makes us happy! These are things to brighten up these Winter days and they make us feel a little brighter. Some are unexpected, some are classic, and all are right on trend this season. The prices are already so reasonable and right now Cents of Style is offering another 25% off which provides crazy good pricing – – we're talking a utility jacket for under $20, a sequin skirt for under $18, accessory bags under $10, a graphic tee under $15!
Here are a few of our favorites:
We love these big, bold brightly colored taffeta ball skirts! You're going to be the hit of every part East OR West of the Mississipi. These gorgeous taffeta midi skirts can be styled so many different ways and worn all year round.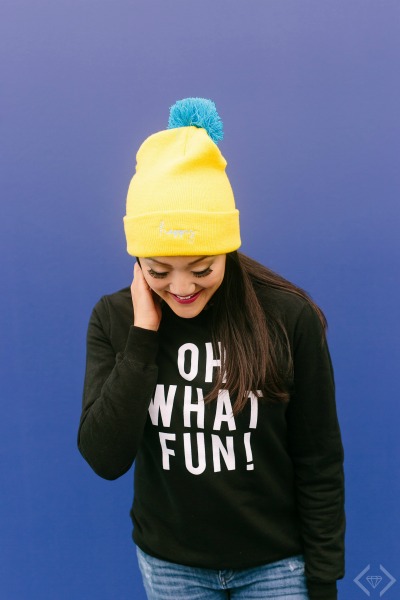 To take a more casual turn we love the Oh What Fun Sweatshirt. Amy says, "This sweatshirt epitomizes what I wanted my collection for Cents of Style to represent—plain & simple fun! Grab this piece and add it to your look- from bright to boring- and make something fun happen!" Do you know how to make every situation fun? Whether you are running the carpool, cleaning the house, or having a night on the town, you know how to enjoy every second of it. Show it off with this bold sweatshirt that pairs with your favorite joggers or skinnies. So you can enjoy the next experience that comes up.
How awesome is this All the Things Cosmetic Bag?!? "You know you want 'em, you have to have 'em—you love all the things!" says Amy. "This cute cosmetic tote is perfect for hauling your 'essentials' to and fro. I love the ease of throwing my pencils, stickers and fun tapes in this clutch for fun days away and journaling through it!" It's all the things in the world. Your make-up takes you from casual to fancy with the flick of an eyeshadow. Keep all of your cosmetics in this ultra durable canvas bag with plenty of space for all of your essentials. With a printed "all the things", you can keep your eye shadow nearby and change your day.
The collection is always a great deal, but today 1/23/17 you can get an additional 25% OFF the lowest marked price, + FREE SHIPPING with code FUN17. The code is valid 1/23/17 only!