This is a Fashionista Event Opportunity, and is hosted by Still Blonde after all these YEARS and Modly Chic.
Fall is here!  Well, it's almost here weather-wise, and it is definitely here fashion-wise!  As the weather starts to cool and the leaves begin to change color, it's time to add some color to our wardrobes too!  It's the perfect time of year to add some fun pops of rich color to your clothing to make bold statements or add chic accents.  This can be something as small as a statement necklace or a richly colored bag, to something all over like a deep red or purple dress.
I'm starting out my fall wardrobe with a subtle blend of color in the Tracy Dress from Monroe and Main. The elegant pattern features a deep purple color that stands out on the muted gray fabric.
Can I say how much I love this dress!  First of all I'm thrilled with the fit.  It is nice and curve-hugging, but definitely not too va-va-voom.  And it is extremely comfortable!  We're talking p.j. worth comfort.  I could sleep in this thing!
One of my favorite parts of the dress is the side gathers.  It adds such a note of interest and adds to the flattering shape as well.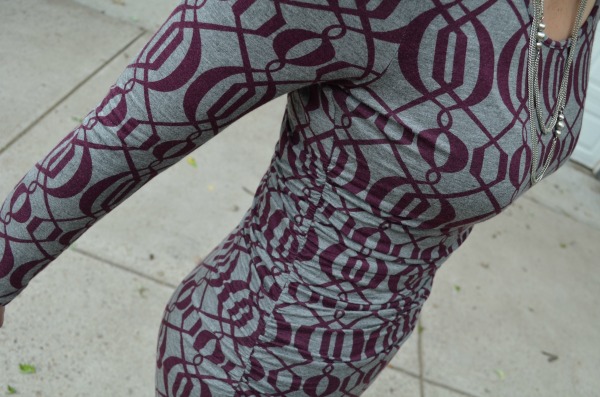 The other big positive of the Tracy dress by Monroe and Main is that it is versatile enough to go from dressy to casual.  I went from the more dressy, business-meeting-worthy look above, to a more casual out for the day look below.
For the more casual work, I complimented the Tracy dress with Embroidered Ankle Boots and a Studded Leather Side Bag, both from Monroe and Main.  And I'll even be ready when that extra-cold winter weather hits, simply by adding a long black sweater to the ensemble.
The Tracy Dress is made of Rayon/Spandex and is machine washable.  It has a length of 43″.
Reader Giveaway:  One lucky Jinxy Beauty reader is going to win a Studded Tote 3 in 1 from Monroe and Main.  The winner will have their choice of either black or purple.  To enter, just complete the entry form below by 11:59pm ET on 9/8/14.  Good luck!
a Rafflecopter giveaway
 
Monroe and Main Fall Fashion: Focus COLOR!
Once you enter the giveaway on this blog, keep hopping to all 24 other bloggers who are also giving away this $100 tote. 25 bloggers + 25 Totes= 25 Chances to win!