What is better than an awesome new dress?  An awesome new dress that you can wear multiple ways and in all seasons!  I recently received the Knot Your Mother's Dress from Monroe and Main and, as you can see in their photo below, it really brings to mind a nice, hot summer day.
Well, right now in Minnesota it is -11 and with the windchill it is something like -30.  NOT SUMMER!  But, guess what….it doesn't matter.  This dress can be worn spring, summer, fall or winter.  All it needs is a little bit of accessorizing!
First, a little more about the Monroe and Main Knot Your Mother's Dress – – This pretty, feminine dress features an empire waist and full skirt.  The knot design at the top of the empire waist adds an interesting, fun element to the design.  It's made of Rayon/Spandex, which means it can be tossed right in the washer.  And it is COMFORTABLE!  The fabric is no nice and soft and the fight is so comfy that it feels better than most of my nighties.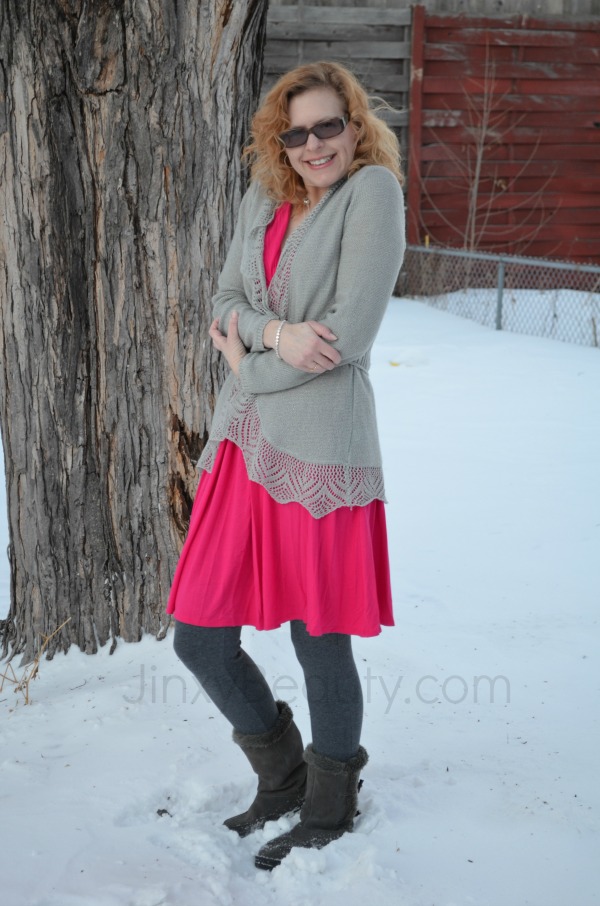 I think the dress fits very true to size, or if anything maybe even a little big – so I wouldn't recommend ordering a size any larger than you need.  There is plenty of stretch in the fabric, so there is plenty of give for those times you feel you need a little more room in the fit.
So, besides having a great feel and a great fit, it has a great color!!  It's available in black, yellow, cherry (my color), lime and orange.  These bright colors really POP and are perfect for a summer dress.  But, you know what, those bright vibrant colors also make it an awesome dress to accessorize for winter to add a splash of color to the otherwise dreary winter.  If I look a little cold in the picture above, it's because I WAS cold!  It was double digits below zero with a fierce wind!  I hope you all appreciate my sacrifice to get that photo. 🙂
So whatever the season, from summer with silver strappy sandals and jewelry to the dead of winter with boots, leggings and a sweater, the  Monroe and Main Knot Your Mother's Dress is a great wardrobe go-to.
Reader Giveaway:  One very lucky Jinxy Beauty reader will win their own Monroe and Main Knot Your Mother's Dress.  The winner will be able to select their size and color.  To enter, just complete the entry form below by 11:59pm ET on 2/12/14.  Good luck!  NOTE:  If you don't see the form below within 20 seconds, please click HERE to open the form in a new window.
a Rafflecopter giveaway
Once you have entered our giveaway, be sure to visit all of these fabulous blogs too.  EACH ONE is giving away a Monroe and Main Knot Your Mother's Dress!  That's a total of 25 dresses!