Spring is trying to be sprung – – – but it's just taking a while!  Sooner or later all this cold and snow will go away and we'll be ready for new fashions for spring!  That makes it the perfect time for the SpringFashionista event!  We have joined together with 100+ awesome bloggers to introduce you to some amazing fashion brands.  Plus, there are rewards for readers with fabulous giveaway prizes.  In fact, each blogger is hosting a giveaway with a prize valued at $125 or more, PLUS there are some grand prizes as well.
Last month I introduced you to Monroe and Main and I'm happy to say that they are also our sponsor for this event!  Remember this picture of me in my gorgeous Monroe and Main Knot Your Mother's Dress?  Well, now I can get ready to style that one for spring!
I'm already looking forward to wearing the Monroe and Main Knot Your Mother's Dress in the warmer weather, but I have another dress that I just received and am super exited about!!  It's the Jacquard Dress.  It is a beautiful, classic blue and black jacquard pattern in a traditional ice-skater-inspired style.  It is fitted on top with just-right stretch, flowing to a figure-friendly skirt.  It zips in back with a glittering rhinestone button to close it at the top.
I really love this Jacquard Dress!! It fits very well with curves in just the right places.  The fabric is lightweight and comfortable.  The detail on the clasp in back is so pretty that it just screams to wear your hair up!  (Which I almost never do!)  I'm also loving how versatile it is.  It would look perfect with a black jacket during the day at the office or for a meeting and then transfers seamlessly for a night out.
It's also an "all year round" dress that could be worn with black tights in the winter and topped with a sweater (or that jacket again) and "as is" in summer with sandals – calm, cool and collected!
But, I'm not the only one who will be styling new dresses from Monroe and Main this spring.  We have a prize for one lucky Jinxy Beauty reader PLUS you have a chance to win a Monroe and Main gift certificate in the Fashionista Grand Prize drawings!  (Read more about that below.)
Reader Giveaway:  One lucky Jinxy Beauty reader will win the Monroe and Main Jacquard Dress along with the Triangle Lock Envelope Bag, which was recently featured in Redbook Magazine!!  To enter, just complete the entry form below by 11:59pm ET on 3/14/14.  Good luck!

a Rafflecopter giveaway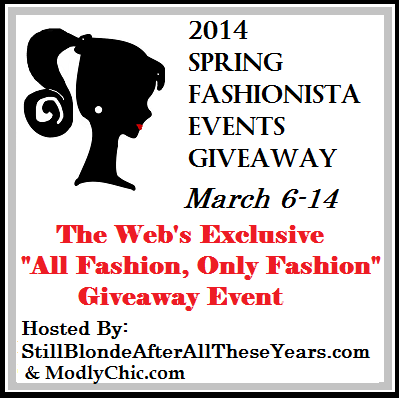 The SPRING Fashionista Giveaway Event is hosted by The Chief Blonde at Still Blonde After All These Years and Katy from  Modly Chic.  All Fashion! Only FASHION event! Largest Fashion Giveaway event on the internet with $26,000+ in prizes, 100+ participating blogs and 3/4 million entries. Each individual blog has a minimum of $125 prize! Covered Perfectly is providing Spring Fashionista Events Grand Prizes (Enter the Grand Prize here: http://stillblondeafteralltheseyears.com/2014/03/spring-fashionista-events-2014-covered-perfectly/  )   For every Giveaway in the Spring Fashionista Event that you Enter, you gain one entry toward the Spring Fashionista Grand Prize. 2 Grand Prize winners will receive 12 tops, 1/month over the course of a year, valued at approx. $600/winner! Isn't that stunning? Covered Perfectly makes flattering tops (misses and plus sizes) comprised of a full collection of super-soft MicroModal tops in a variety of colors and the cute patterns.  www.coveredperfectlyplus.com  US Shipping is FREE and they also now ship worldwide.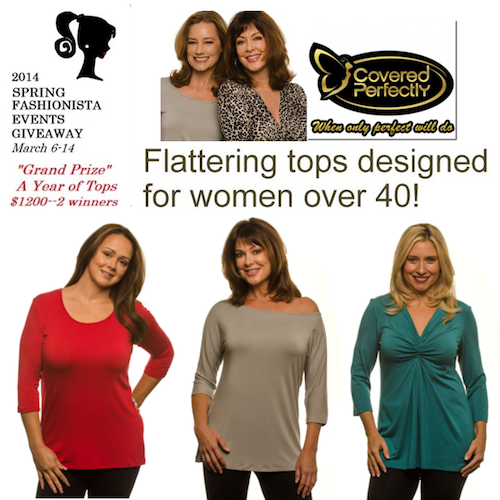 Monroe and Main is providing our first and 2nd place prizes. (Enter the 1st and 2nd Place here: http://stillblondeafteralltheseyears.com/2014/03/spring-fashionista-events-2014-covered-perfectly/ )  $200 & $100 shopping spree to their site, Monroe and Main.
Also, be sure to visit all of the other participating Fall Fashionista blogs below.  Each is giving away a prize valued at $125 or more! Still Blonde after all these YEARS , Modly Chic, Spring Fashionista Events Giveaway or the Spring Fashionista Events Giveaway bloggers are not responsible for sponsors/bloggers that do not fulfill their prizes or for any product failure or harm caused thereby.