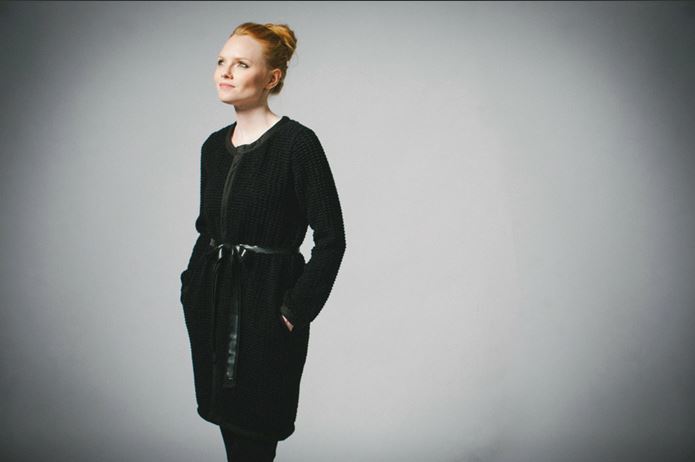 The time is finally here!  It's the Fall Fashionista event!  We have banded together with 100+ awesome bloggers to introduce you to some amazing fashion brands.  Plus, there are rewards for readers with fabulous giveaway prizes.  In fact, each blogger is hosting a giveaway with a prize valued at $125 or more, PLUS there are some grand prizes as well.
But first I want to introduce you to the Jinxy Beauty sponsor for the Fall Fashionista event.   KOKOON is a totally unique fashion company offering their contemporary clothing line to women via private appointments and in-home trunk shows as a modern, private pop-up boutique.  Having just celebrated 25 years, KOKOON wows its fans every season with new designs.  Their new Fall collection features bold prints, both soft and "nubby" knits, and new styles to take you from day to night.
I recently attended their 25th Anniversary Celebration and it was a great event!  We browsed their display of vintage KOKOON fashion and history and shopped the Pop-Up Boutique with current and archive inspired collections.  Then it was time for the main event – a retrospective fashion show!  Company founder and designer Laine Sou Weinberg spoke about this history of the company and the interesting path it has followed to the unique position and business model it has arrived at today.   Hearing her speak, you can feel how truly Laine has poured her heart and soul into KOKOON.
Take some time to browse through the styles on the KOKOON web site to see their new designs for fall.  You can also find more on their social media pages:
KOKOON on Facebook
KOKOON on Pinterest
KOKOON on Twitter
Reader Giveaway:  KOKOON is offering a $125 online gift certificate to one lucky Jinxy Beauty reader.  To enter, just complete the entry form below by 11:59pm ET on 10/9/13.  Don't miss the entry link for the Fall Fashionista grand prize event either.  More details below!
The Fall Fashionista Giveaway Event is hosted by The Chief Blonde at Still Blonde After All These Years and Katy from ModlyChic.  K Squared Glamour  is our co-host!   All Fashion!  Only FASHION event! Largest Fashion Giveaway event on the internet with $26,000+ in prizes, 100+ participating blogs and 3/4 million entries.  Each individual blog has a minimum of $125 prize! For every giveaway in the Fall Fashionista Event that an entrant enters, they gain one entry toward the FALL Fashionista Events Main Event Prizes.  Go here to enter Main Event==> $1000 in Main Event Prizes.   The Main Event Prizes include:
Prize #1 Coupons.com will be providing $300 Pay Pal Cash to Main Event entrants.  They want to make sure you know that they are not just a coupon site, they also have great shopping deals all through the year as well.  Check out their ever-changing shopping codes page  that is PACKED with shopping deals.  Also, they have an incredible Coupons.com blog  which summarizes their hottest deals for the week.  Be sure to follow along!Prize
#2 — $100 black and white diamond necklace by Rarities: Fine Jewelry with Carol Brodie.
Prize #3 — $400 Mountain Khaki gift certificate
Prize #4 — $189 Ju-Ju-Be Be Prepared Bag in Black and Silver
Also, be sure to visit all of the other participating Fall Fashionista blogs below.  Each is giving away a prize valued at $125 or more! Disclosure:  Still Blonde after all these YEARS , Modly Chic, K Squared Glamour , Fall Fashionista Events Giveaway or the Fall Fashionista Events Giveaway bloggers are not responsible for sponsors/bloggers that do not fulfill their prizes or for any product failure or harm caused thereby.